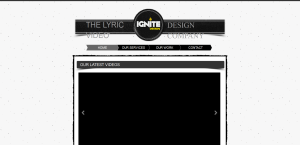 ignitedesign.tv
Description of ignitedesign.tv
Professional Lyric Video Maker and Design Company. We design and make high-quality lyric videos for bands and artists at an affordable and cheap rate.
The more the red, the more bad words were used to describe the site
Loading the stats for ignitedesign.tv
Reviews : 1
Scroll down to see 1 review(s) about ignitedesign.tv
Want To Make A Review For ignitedesign.tv ?
It Only takes

two

minutes to make a review.
Have fun writing a review about ignitedesign.tv.
You can do it. Just click the button.
---
" Best company we've worked with for lyric videos "
---
Can't be happier with the video IGNITE made us. We had a pretty clear idea of what we wanted our lyric video to be, but Shane went above and beyond with what he created. The feedback from our fans about the video has been amazing. We will be back for sure.
---
Positive words shared:
Affordable
Awesome
Good Service
Great Products
Happy
Negative words shared:
1
---
ReviewDrill is a new website. Please let us know any feedback to make the site better.
Enter Feedback
ReviewDrill.com is a website dedicated to making the online shopping experience better.


---

We do this by providing a place for shoppers to share their online shopping experiences and a unique way to find websites that sells specific items.